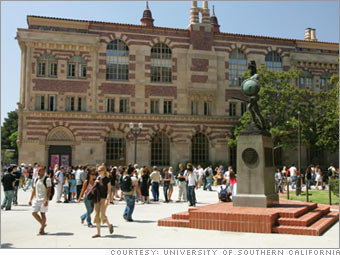 For those of you who are admitted to the Spring 2013 semester – and want to (or are thinking about) study engineering at USC – we strongly recommend enrolling in a community college or other university for the Fall 2012 semester.
Selecting Your Fall 2012 Courses
Please review the information below  to assist you in selecting classes that are likely to transfer to and keep you on track to graduate with your class:
MATH
Take the equivalent to the USC Course of MATH 125, 126, or 226 (Calculus I, II, or III)
Note: AP Scores can help you place in certain levels at your chosen college for the fall.  As a general guideline, Calc AB with a score of 4 or 5 should enroll in the Calc II equivalent.  Calc BC with a score of 5 should enroll in Calc III equivalent.
CHEMISTRY
Take the equivalent to the USC Course of CHEM 105a (General Chem. I). Computer Science Games Majors should take C++ Programming instead of Chemistry.
Note: AP Chemistry with a score of 4 or 5 satisfies the CHEM 105a course
GENERAL EDUCATION
Choose equivalent courses that meet USC's GE Requirements for Categories I, II, or V. Note: AP Scores can help you satisfy some of USC's General Education Categories. 
ADDITIONAL COURSES
Take an additional G.E. course from another category listed above.
Computer Programming Course (C++) – Only for Computer Science and Industrial & Systems Engr. Majors.
The above courses will help you move forward towards your degree in engineering, and keep you on track for graduation. In order to find equivalent courses at whichever college or university you will attend this fall, be sure to check out the USC Articulation Histories database.
If you want to be on track for engineering it is important to follow the above instructions. The Articulation Office has put up a website and page for Spring Admits.  You will notice that course recommendations for engineers (listed above) are different from the recommendations listed on the articulation website.   Again, if you plan to study engineering at USC, be sure to follow our course recommendations above.
While you may not know your plans for the fall just yet, please know we want to help you with this process.  We understand you likely have questions and the recommendations above may not easily apply to your individual set of circumstances.
Beginning in June, students admitted to Spring 2013 may schedule advising appointments (over the phone, or in-person) with a counselor to discuss your plans.  Contact us directly at (213) 740-4530 or via email at viterbi.admission@usc.edu in June to schedule your appointment.